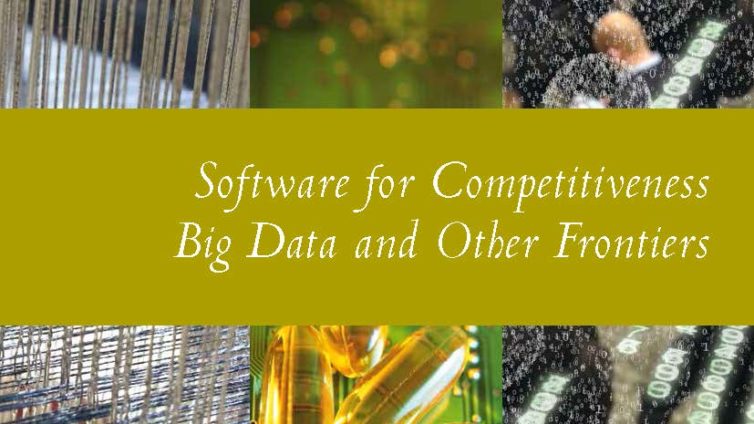 The SSF – Vinnova third joint conference on Software for Competitiveness: Big Data and Other Frontiers
A digitalization wave is spreading through the world. Access to very big data samples, and automatic services to extract human-relevant knowledge from the data flow will change our industry and society. ICT is the core technology behind this revolution. SSF and Vinnova work to support Sweden's academy and industry to be competitive in ICT research and development.
SSF funds academic research in support of Swedish competitiveness with an emphasis on framework programmes like the 100 million SEK Information-Intensive Systems, and the 200 million SEK Big Data and Computational Science, both presented at this conference. These are complemented by various grants to primarily young individual researchers.
Vinnova supports Sweden's digitalization through several initiatives. International ICT R&D cooperation is supported by approx. 150 MSEK/year through various programs: EU ECSEL JU, EUREKA ICT clusters, Eurostars and bilateral activities. Vinnova also acts for Sweden in steering and support of the EU LEIT-ICT program (approx. 250 MSEK/year from EU to Sweden). Most of these programs and some key projects are presented at this conference.
Welcome!
8.30 Registration and coffee
9.30 Welcome! Director General Vinnova and Lars Hultman, CEO SSF
9.40 Keynote Session: Chair: Lena Holmberg, Business Developer, The City of Trollhättan
E2E-Clouds, Big Data and Business, Seif Haridi, KTH Royal Institute of Technology & RISE SICS
Digital Maturity in Sweden – Leaders and Laggards, Irene Ek, Swedish Agency for Growth Policy Analysis
Innovation, Gender and Software – State of the art in Sweden and on the Global Scene
Inger Danilda, Quadruple Learning AB
10.40 Break
10.50 SSF projects in Information-Intensive Systems, Chair: Jonas Wallberg, Teknikföretagen
DADEL, High-Performance Data Mining for Drug Effect Detection
Henrik Boström, Stockholm University 
Virtual Photo Set, Data-driven scene characterization for realistic rendering, Anders Ynnerman, Linköping University
Ralf 3, Software for Embedded High Performance Architecture, Ivica Crnkovic, Chalmers University of Technology/ Mälardalen University
DataBIN, Data-Driven Secure Business Intelligence, David Sands, Chalmers University of Technology
11.50 Lunch and poster session
12.50 SSF projects in Big Data and Computational Science, Chair: Agneta Jacobson, Teyi AB
Integrated VISualization of Intra-Tumor Heterogeneity, Nicola Crosetto, Karolinska Institutet
Continuous Deep Analytics, Seif Haridi, KTH Royal Institute of Technology & RISE SICS
Large Scale Machine learning for the SingleCell Revolution, Jens Lagergren, KTH Royal Institute of Technology
Integrative precision medicine: local data, global context, Sven Nelander, Uppsala University
In-Situ Big Data Analysis for Flow and Climate Simulations, Tino Weinkauf, KTH Royal Institute of Technology
Deep Brain Stimulation: Data Analysis for Clinical Support, Karin Wårdell, Linköping University
Hierarchical Analysis of Temporal and Spatial Image Data Carolina Wählby, Uppsala University
13.30 International software-related ICT programs, Chair: Jonas Bjarne, Vinnova
The EU LEIT-ICT program 2018-2020 and the Swedish position on the next EU Research Framework Programme (FP9), Johan Harvard, Deputy Director, Swedish Ministry of Enterprise and Innovation
The EU Next Generation Internet Swedish Node Rebecca Steinert, Head of the Network Intelligence Group, RISE SICS
The EU ECSEL JU Initiative. Laila Gide, President, ARTEMIS Industry Association
14.30 -15:00 Coffee and poster session
Finland – Sweden biliateral matchmaking and cooperation in ICT, Tom Warras, Tekes – the Finnish Funding Agency for Innovation, Finland
The EUREKA ITEA software cluster, Philippe Letellier, ITEA Vice-chairman
The Vinnova Program on Digital infrastructure and Cybersecurity, Anna Chiara Brunetti, Vinnova
15.50 Vinnova projects in software-intensive systems, Chair: Andreas Allström, Vinnova
EU ARTEMIS JU Arrowhead, Service interoperability enabling collaborative  automation EU ECSEL JU Productive 4.0, Electronics and ICT as enabler for digital industry and optimized supply chain management covering the entire product lifecycle, Jerker Delsing, Luleå University of Technology
EUREKA ITEA TESTOMAT, The Next Level of Test Automation, Sigrid Eldh, Ericsson AB
EUREKA Celtic Plus SENDATE-EXTEND, A holistic approach on automation in data centers, Tor Björn Minde, RISE SICS North
EUREKA ITEA ENTOC, Engineering Tool Chain for Efficient and Iterative Development of Smart Factories, Atieh Hanna, Volvo Trucks AB
16.40 Drinks, discussions and posters
17.30 End of conference